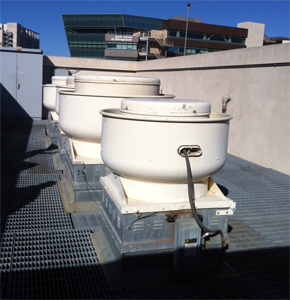 Depending on the type of commercial facility you're operating, airborne microbes and irritants can take many forms. L Seven N Company Inc., Ventilation Cleaning Specialists is here to make sure that all of your air pathways are clean, and that your numerous pieces of commercial air handling equipment are in top working order. Our full scope of services includes:
Grease trap cleaning
Grease traps need to be emptied and cleaned regularly, to prevent the buildup of congealed and emulsified materials. Not only can unfettered grease become a costly problem for your grease trap plumbing, it can also pose a number of other hazards. We provide grease trap cleaning in Santee, CA to absolve it of remnants that could cause problems.
Hood cleaning
In commercial kitchens, range hoods eject smoke and other airborne particles outdoors, to keep them out of your enclosed kitchen environment. If your hood is dirty, clogged with grease or blocked, it could result in a fire or stop functioning properly. We clean range hoods to assure proper function at all times—even in the busiest kitchen.
Dryer vent cleaning
For laundromats, purging lint and debris buildups is essential in preventing fire. It can also improve the efficiency of your machines! Give us a call for complete dryer vent cleaning in Santee, CA and experience the value in this essential maintenance task.
Mold testing
Mold in your facilities can spell trouble—especially if you're slapped with a health code violation or the mold is deemed dangerous. We perform comprehensive commercial mold testing in Santee, CA to ensure your facilities are free of mold spores, so you can carry on with business as usual. If mold is found, we'll help remediate it quickly and thoroughly.
Vent cleaning
There are vents throughout your commercial facilities—whether you're in a cozy office space or manage a large retail environment. Vent cleaning in Santee, CA is critical in maintaining a high level of air quality from central forced air systems. We'll ensure your vents are totally free of debris and other buildups.
Video camera duct inspection
Over time, air ducts build up dirt, lint, grease and grime, which create a breeding ground for unhealthy bacteria. This video feed will show the actual volume of dust and debris within the ducts before any cleaning begins.
Smoke damage cleaning
Smoke damage lingers far beyond what you can see. Toxic fumes can embed themselves everywhere after a fire, leaving behind odors and more. It takes a refined cleaning approach to ensure smoke damage is truly remediated— L Seven N Company Inc., Ventilation Cleaning Specialists is here to help.
For more information about our full range of commercial air and equipment cleaning capabilities, give us a call today at 619-448-7707.
Contact Us Today for Your Free Consultation